Good morning. I hope everyone had a great holiday and stayed safe in the process. We are back at it this morning for remote learning. Please remember to check in on my Google Classroom for the attendance component. Then, follow up with your classroom teachers to complete the daily assignments. We are 15 short school days away from the end of the quarter. Let's finish strong and take that next step towards graduation.

In light of the news release from the Macon County Health Department urging schools and churches to move to remote or virtual learning, we will be pushing up our Remote Learning date to tomorrow, Wednesday, November 18th. Students will be on Remote Learning for the remainder of the second quarter. We anticipate a delayed start to the 3rd quarter. It is currently set for January 15th, but we will follow the recommendations before proceeding. Please make sure you continue to look for updates on our school status. Let's work hard and stay safe over the holidays in order to return to in-person education next quarter. Thank you for your patience and understanding.
Dear Parents and Students, Futures Unlimited and Milligan Academy will be moving to remote learning beginning November 23rd through December 18th. The students will be in attendance next week November 16th (scheduled remote day) through November 20th. This decision was not made lightly, we want to make sure our students, student's families and staff are safe Thank you for your continued patience.
Students, do not forget about tomorrow's workshop. Make the necessary arrangements to come early or stay late and take advantage of this fantastic opportunity.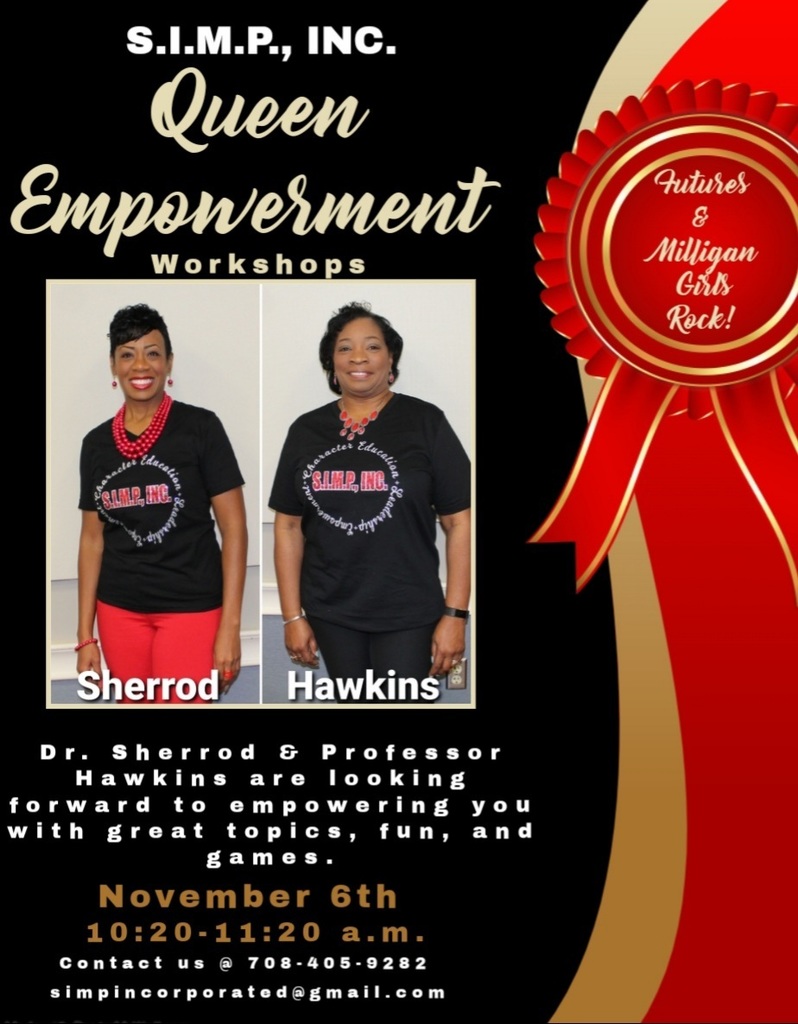 Quick reminder. We will continue to use Remote Learning for Thursday, Friday and Monday. Students need to check in through Google classroom between 8:00 and 11:00 AM for their attendance requirement in addition to doing the assigned coursework. If you have any questions, please email
bplummer@roe39.k12.il.us
. Thank you and stay safe.

Reminder to all of our followers, we invite you to join us in celebrating our graduates today via Facebook Live on the Futures Unlimited facebook page.

Just want to remind the ladies participating in the SIMP program that SIMP will be here from 10:20-11:20 tomorrow, Friday, Oct. 2nd. Please make arrangements to stay a little later or arrive earlier to take advantage of this unique opportunity.
Just a reminder that Wednesday, September 30th will be remote learning for Futures Unlimited students.

Students who need to take the SAT were given a letter this week. The test will be next Wednesday September 23rd. The students will need to report to the school at 7:30 am and will leave approximately at 1:00 pm. The students who did not receive a letter will not be in attendance on the 23rd.

Good afternoon. We are going to utilize a Remote Learning day on Wednesday, August 26th. This day is not marked on your calendar and similar days may pop up sporadically. Teachers have began to explain the expectations and will do so tomorrow, as well. This will be our first attempt at Remote Learning since introducing Google Classroom and is intended to be a trial run to work out any kinks in the system. There will be no in-person instruction for AM or PM students. However, staff and faculty will have regular school day hours. Thank you.
Futures Parents and Students: please drop-off and pick-up at door D off Franklin St. Door A will be for employees, deliveries, and late arrivals. If arriving after 8:05 a.m. or 11:25 a.m. please use door A. Student parking is located at the corner of Cerro Gordo and Water St. Thank you for your continued patience! We can't wait to see the students!
Futures Unlimited will have a make-up registration date on August 12th, 10:00a.m.-12:00p.m.
Just a reminder...The last day for Futures Unlimited Registration is Thursday August 6th (10:00am-12:00pm). Students and Parents will need to attend registration to begin the school year in-person on August 17th.
Futures Unlimited will start on August 17th with an AM (8:00-10:40) and PM (11:20-2:00) split schedule. Please do not contact the school about AM and PM student placement, it will be available on August 4th, 5th or 6th (10-12). Previous registration information was sent today also. Students will be receiving 2 hours and 40 minutes of instruction with supplemental distance learning for the AM and PM. We will not be offering 100% remote learning options at this time, please contact administration if this will be an issue. Futures Unlimited will be following IDPH guidelines and will be requiring masks to be worn in the school building. Thank you for your patience. We look forward to seeing the students on August 17th.
Futures Unlimited will be hosting student registration on August 4th- August 6th. This will take place at Futures Unlimited, 300 East Eldorado Decatur. Students with the last name A-M August 4th, 10:00 am-12:00 pm. Students with the last name N-Z August 5th, 10:00 am- 12:00 pm. New students August 6th, 10:00am-12:00 pm.

Good Morning. This is a reminder that we are open for pickup. We've had 30 come through in the first hour. Well be here until noon. Come see my face.

WELCOME BACK !! Remote Learning days start tomorrow. Follow the link below for more information.
https://5il.co/ekyq

Please follow the link below for updated information regarding Remote Learning Days.
https://5il.co/egwg

Good evening everyone. Tomorrow, March 16th is our regularly scheduled Teacher Inservice. As mandated by the state, schools will be closed Tuesday, March 17th through Monday, March 30. At this time, we are expecting classes to resume on Tuesday, March 31. We will be posting more information on our Facebook page and App. Thank you for your patience as we put together the pieces in this ever changing situation.
31 Grads this quarter. Alt. Ed. works!!